The Pelican Town Hall houses a military display honoring our veterans of each branch of the service with uniforms and artifacts including a Japanese Battle Flag.
CARLING SYNSTELIEN'S FLAG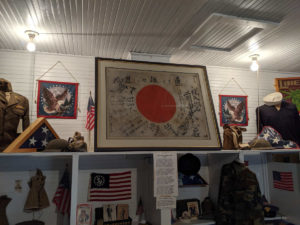 Carling Synstelien helped liberate the Philippines from the Japanese in 1945. After one of the battles he found this flag and brought it home. He was born and raised on a farm near Dalton, graduated from Ashby High School, and spent most of his adult life in Fergus Falls.
In 1967 Carling gave his flag to Clarence K. "Butch" Larson, Fergus Falls, out of respect for Larson's having survived the Japanese Death March and 3.5 years of imprisonment. Carling passed away in 1988.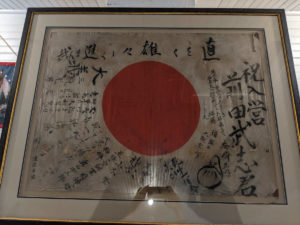 On August 11, 1998, Larson, joined by Carling's widow, Eleanor, and their children donated the flag to this museum to honor the memory of Carling Synstelien and to remind us of the horrors of WWII in the Pacific, 1941 – 1945.
The characters are signatures of soldiers who served in the unit that carried this flag. Years after the war a Japanese native, the wife of a Fergus Falls veteran, took this flag with her on a visit back home. She tried to locate any signers but was told "all are dead."
PELICAN LAKE TOWNSHIP
On January 4, 1876, a petition was presented to the county board by Iver G. Holt, signed by a majority of the legal voters of congressional township 130, range 41, asking that the township be organized and named "Pelican Lake." The petition was granted, and the township named for a lake which covers some seven sections within its boundaries, which lake was noted for the large flocks of pelicans found there in the early days. Some of those who signed the petition were: Joseph A. Pennock, Iver G. Holt, K. N. Melby, Ole Gulickson, Charles Phinney, L. M. Phinney, John Newman, Thomas Gulickson, Peter Sorkness, Martin Jacobson, Jacob Halstead, John Stene, Hans Kjorven and Gunder Wold. The first election in Pelican Lake township was held on March 14, 1876, when the following officers were elected: Charles Phinney, clerk; John Stene, treasurer; Joseph A. Pennock, assessor; John Houston and Lewis .Tobiason, justices; Jacob Halstead and Iver. A. Holt, constables; Peter Peterson, road overseer; L.M. Phinney, K. N. Melby and John Newman, supervisors. The officers in Pelican Lake township in 1916 are as follows: Andrew Olson, clerk; E. K. Heisberg, treasurer, Charles Mickelson, assessor; W. F. Wohlers, C. J. Stene and Anton Sumstad, supervisors.