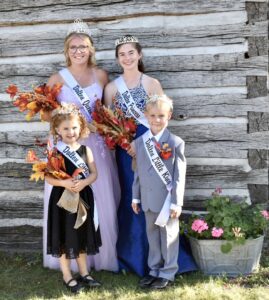 History
The first pageants were held at the Dalton school as part of the annual talent show during the Threshermen's Reunion. The first queens were called Festival Queens. Myrna Clausen was the first Queen. At the time of this printing there was no information if there was a second Festival Queen or who it might be. Claudia Ugstad was crowned the third Festival Queen. The Festival Queens wore paper crowns which were decorated with foil paper and beads from old jewelry.
In 1960, the name was changed to Queen of Steam and the Queens wore rhinestone tiaras. There were several "traveling" crowns which the Queens passed on to their successor. Starting in the mid 1970's new tiaras were given to each new Queen and she was allowed to keep her tiara.
In 1999 the Queen of Steam pageant was dissolved. In 2001 the Dalton Community Club established the pageant as the "Dalton Queen" which took place during the Dalton Summerfest. In 2008 the Lake Region Pioneer Threshermen's Auxiliary joined with the Dalton Community Club to create the "Dalton Queen of Steam" which once again took place during the Threshing Reunion in September.
The Queens have represented the city of Dalton and the Threshing Reunion well, participating in area parades, taking part in the Threshing Reunion, and also in city events. There is also a First and Second Runner Up, Miss Congeniality, and Little King and Queen each year.
There have been four sets of sisters to serve as Queen. Sue and Debbie Mark, Becky and Jennifer Halvorson, Christa and Lisa Mounts, and Kayla and Krista Aasness. Christa and Lisa Mounts were also Little Queens. There has been one Mother/Daughter pair. Ellyn Andrews was crowned 30 years after her mother, Becky Halvorson.
Former Queens now live throughout the country, from Washington to California to Georgia. Many still live in Minnesota and several still call Dalton home. Some former Queens are involved in the Threshermen's Reunion each year. In 2003 and 2013 a "Queen Reunion" was held during the show. Many former Queens attended and took part in the downtown parade, Parade of Giants, and a style show.
There are a few missing pictures in this album. Please let us know if you have any pictures of these "missing Queens".
Queen list
Festival Queen
Queen of Steam
Dalton Queen
2001 – Hannah Haarstad
2002 – Amanda Borgos
2003 – Ashley Ohren
2004 – Megan Aasness
2005 – Stephanie Nelson
2006 – Alisha Aasness
2007 – Kayla Aasness
Dalton Queen of Steam
Appearances
Contact us if you would like to schedule an appearance:
Sign up
Select one of the following buttons to sign up for this year's pageant:
Dalton Queen & King of Steam and Little Queen & King pageant to be held on Sunday, September 10 at 4:00 p.m. in the Ag Museum Building on the threshing grounds during the LRPTA's annual steam threshing show.
Contestants must either live in the Dalton community and/or have a parent, guardian, or grandparent that is a member of the Lake Region Pioneer Threshermen's Association. The Dalton Queen of Steam is open to teens between the ages of 15 – 18 and the Little Queen & King is open to kids between the ages of 5 – 7 by September 1, 2023. NEW THIS YEAR we will be adding a category for The Dalton King of Steam which will be open to teens between the ages of 15 – 18.
Crowned royalty will represent LRPTA and the Dalton Community during special events, parades, neighboring threshing shows, and the 2024 LRPTA Threshing Show.